Posted under:
General
Posted on: December 28, 2020
Invisalign: Frequently Asked Questions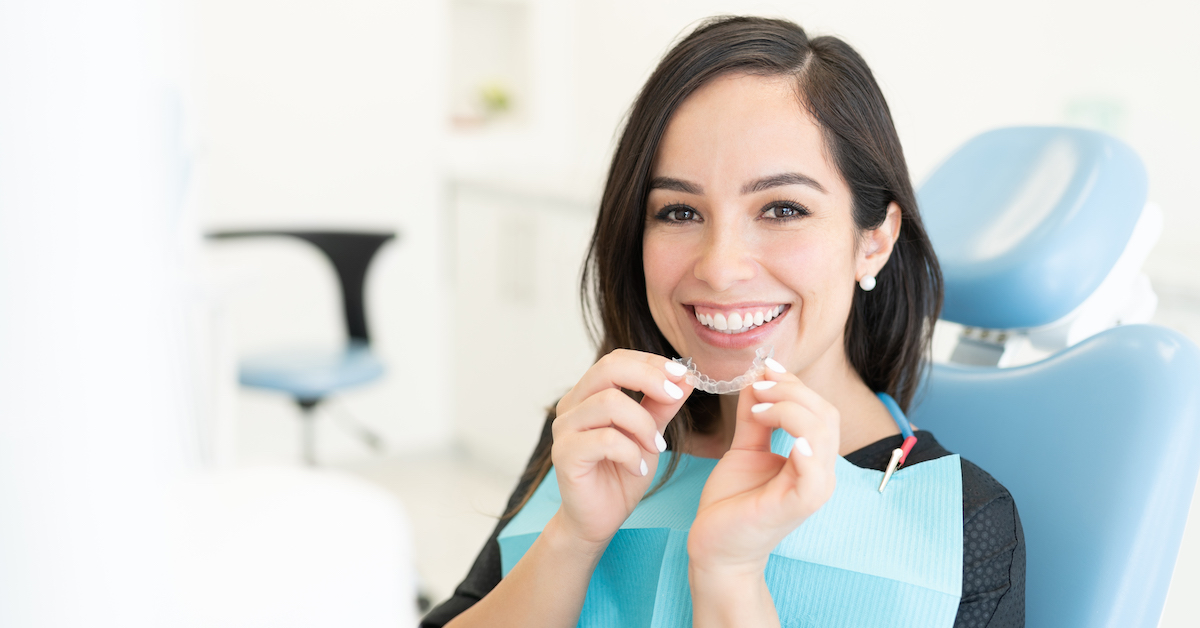 A beautiful smile is the perfect accessory to any outfit, but if you're ashamed of your smile, then you may never feel your best. Misaligned and crooked teeth can adversely affect everyone, so if your teeth need to be straighter or more even, then Invisalign may work well for you. Invisalign is a method for achieving straight, even teeth without the unsightly appearance of the metal wires and brackets that are typical of traditional metal braces.
How Does Invisalign Work For Teeth?
Invisalign uses clear trays similar to whitening trays to gradually move misaligned teeth into proper alignment. The Invisalign system was the brainchild of a university student who was getting his teeth whitened. Along with other alumni, they developed the trays and wore them during their sales pitch to potential investors. At the end of the presentation, they removed the trays, and the investors were sold. Invisalign was born.
The Invisalign aligner trays are made from SmartTrack, a clear, ultra-modern polymer that's been approved by the FDA, and contains no BPA, BPS, gluten, or latex. The trays are custom-fit to the contours of your teeth and gums, so they're comfortable, and they fit very snugly over your teeth, so they can gently guide misaligned teeth into proper position. They're virtually invisible, so no one will know that you're wearing them.
Am I a Good Candidate for Invisalign?
Most adults and older teenagers are good candidates for the Invisalign system unless they have severe malocclusion or other orthodontic issues that may require a more traditional approach. Invisalign isn't usually recommended for children and young teens because their teeth are still forming and changing, making it difficult to fabricate the aligner trays.
If you're considering the Invisalign system for yourself or your child, then answers to the following questions may help guide you:
Have all of your permanent teeth fully erupted? Except in unusual circumstances, children and young teens aren't good candidates for Invisalign because the contours of their teeth and gums are continually changing and growing. This makes it difficult to fabricate aligner trays that are comfortable and effective. Mostly, adults and older teens are suitable candidates for the Invisalign system.
Will you wear your aligner trays as required? Your trays won't work if you don't wear them. If you're dedicated to the Invisalign program and its benefits, and you'll wear the trays for the required 20 to 22 hours daily, then you may be a good candidate for Invisalign.
Is invisibility important to you? If you're indifferent to the aesthetics of the wires-and-brackets of traditional metal braces, then that might be a better route for you. However, if the invisibility aspect is appealing to you, as well as the ability to remove the trays for important functions, then Invisalign may work well for you.
When you come to our office for your initial evaluation, your dentist will examine your teeth and gums and make a recommendation for Invisalign or another type of device.
What Is the Procedure for Getting Invisalign?
If your dentist and you have decided that you're a good candidate for Invisalign, then you'll experience the following sequence of events. Your specific sequence may vary slightly, such as if you need additional procedures, but you can generally expect the following:
If your dentist and you have decided to proceed with the Invisalign system, then we'll make a mold of your teeth and gums. We'll use the mold to fabricate your aligner trays, and since your trays are made to the contours of your gums and teeth, they should be very comfortable.
Every week or every other week, you'll receive a set of new aligner trays that will have a slightly different shape than the previous trays. This is the process that gradually and gently encourages your teeth to move into proper alignment.
You'll probably notice an increased pressure for a day, but this is normal. It's due to the slightly different pressure applied by the new trays, and it will dissipate.
Every four to six weeks, you'll return to our office for a progress check, and we'll make any adjustments that may be necessary.
By the date of your first progress checkup, you should notice an improvement in your tooth alignment.
Will Invisalign Have an Impact on My Lifestyle?
Invisalign isn't an invasive procedure, so you're not going to need to make drastic changes to your lifestyle. However, there are some dos and don'ts of the program that you'll need to follow for it to be effective.
You'll need to discontinue the use of any tobacco products for the duration of your procedure. This applies whether you chew, dip, smoke, or vape. Any type of tobacco product will stain your trays the same way it stains your teeth. This could be an ideal time to stop using any type of tobacco product.
If you're wearing your trays, then don't chew gum. If you must have a stick of gum, then remove your trays first.
Abstain from eating or drinking anything other than plain water when wearing your trays. Both chewing pressure and the food you eat can damage your trays, so don't eat or drink if you're wearing your trays. Hot drinks can warp the plastic in your trays. Food particles can become lodged underneath them, which will cause decay and cavities to form, which will interrupt your treatment.
Brush and floss assiduously each time you eat or drink anything and before replacing your trays. Use an antibacterial mouthwash before you reinsert your trays so that there's no bacterial residue.
What Happens at the Conclusion of the Program?
When you've completed your Invisalign program, your dentist or orthodontist may recommend that you wear a retainer for a while. Usually, it's for a year or less, and you'll wear it only at night. The retainer helps prevent your teeth from reverting to their former misaligned position, so it's important to wear it as your dentist recommends.
Can I Get Invisalign From a Local Dentist?
Only dentists and orthodontists who have completed the Invisalign training and certification program can offer genuine Invisalign aligner trays. Other dental professionals may offer imitations, but not the genuine Invisalign trays.
If you're interested in the Invisalign system, then call Towncare Dental at and schedule a consultation. We can help you get the straight, even teeth and beautiful smile that you've always wanted. Call us today.
We look forward to working with you.