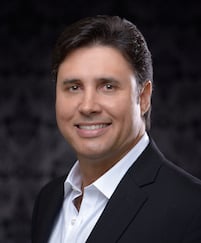 After joining our practice in 1998, Dr. Elvin Silvestry quickly established himself as one of our most popular dentists. Dr. Silvestry received his dental degree from Marquette University School of Dentistry and his postgraduate training at Mount Sinai Hospital in Chicago.
Dr. Silvestry is a member of the American Dental Association and the Florida Dental Association and a fellow of the International Congress of Oral Implantologists; he focuses on cosmetic and implant dentistry. An avid outdoorsman, he enjoys golf, boating, snowboarding and, most of all, cheering on the Warriors, his son's football team.
Office Hours
Monday

8:00 AM – 5:00 PM

Tuesday

8:00 AM – 5:00 PM

Wednesday

9:00 AM – 5:00 PM

Thursday

8:00 AM – 5:00 PM

Friday

8:00 AM – 5:00 PM

Saturday

9:00 AM – 1:00 PM
CareCredit
CareCredit is a healthcare credit card designed for your health and wellness needs. Pay for the costs of many treatments and procedures through convenient monthly payments.
Our patients leave smiling


The office is full of smiles around any time during the day. I didn't wait long to be assisted and the work they did on my mouth was amazing. The hygienist was very kind and informed me of each thing that was being done. This was an amazing experience.

Jennifer G.



Ana was wonderful! Very pleasant, and have good advice that helped me. The front desk is also very helpful and accommodating.

Daniela S.



Great service, friendly and comfortable staff.

Vanessa A.



Friendly, cooperative staff. Efficient, once I was taken in for my appt.

Fred K.



Dr. Tydir and Esther, along with the office staff, have always been excellent. I've been going here for years for yearly checkups, cleanings, and invisaligns.

Heather A.



Always very fast and professional! I even saw one of the front desk ladies go out of her way to interact with a little girl who came with her dad to his appointment and offered her a cupcake, veryyyyyy awesome!

Kelly C.



Always excellent and friendly care!

Gregory P.



Everyone was friendly and willing to help meet my needs.

Johanna P.



I came for a cleaning and to cure some cavities and the treatment in the office was great! I was scared of pain but I didn't have any at all and it was very fast and easy! I was expecting to stay in the office all afternoon and I was very surprised to be out so quick. I am very happy ❤️

Sheyla W.



My dentist, hygienist and overall office environment.

Diana D.



Loved Everyone here! Ana and Gladys were great! I was very nervous at first but they both made me feel very comfortable. Gladys was very informative with teeth cleaning and can't wait to take better care of my teeth :)

Danielle P.



The dental associates of Kendal the office staff very professionally very kind friendly courteous and patient when you walk in all the fear of being in a dentist office dispears I would recommend this office to family and friends

Mamie R.



My hygienist and dentist have been by far the best I have ever had as a dental patient . They care about my health and they want me to be comfortable with my plan of care. I never felt pressured. The office staff is also very accommodating and nice.

Anna A.



Great service and attention to patients.

Samuel V.



Esther pays attention to detail a nd is a kind person.

Alex M.



Service filled with holiday joy! Knowledgeable staff that goes above and beyond.

Julian P.



Dr. Tyder, Esther Torres and the entire family at Dental Associates of Kendall are the absolute GREATEST!!! Without question I wouldn't trust anyone else with the health and well-being of my and my family's teeth.

Stephen P.



Great place! Very friendly staff that cares about your teeth and your comfort. Even without insurance, the prices are fair. Would definitely recommend!

Natalia P.



As a new resident of Florida and Kendall, it was important to find a professional and caring dental practice, and this I have found at Dental Associates. The doctors' care has been wonderful, the office staff most helpful, and my two dental cleanings with Anna this year were done in a care-filled manner, and even delightful. I am appreciative of this practice.

Gary W.



I LOVE Dr. Syvestry, she makes you feel like a family member and her staff is friendly yet professional. I found this office during the 2016 holiday season as as my dentist of 15 plus years was getting ready to close for the holidays. I called on their last work day and was told that the office was scheduled to close at 3 and they couldn't see me. I was in horrible pain. I called Dr. Sylvestry o…

Jacqueline R.