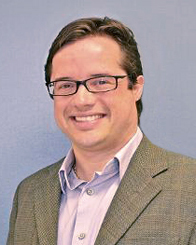 Dr. Oliver's extensive expertise in the areas of periodontics and dental implants has earned him the appreciation of his patients and the admiration of his colleagues.
After receiving his dental degree, he continued his studies by completing a General Practice Residency and an Advanced Education in General Dentistry Residency. Fervently committed to his chosen calling, he maintains memberships in the American Academy of Periodontology and the Academy of Osseointegration.
Married with two daughters, he is a die-hard volleyball fan and faithfully follows the U.S. and Brazil national teams.
Office Hours
Monday

9:00 AM – 6:00 PM

Tuesday

9:00 AM – 6:00 PM

Wednesday

9:00 AM – 6:00 PM

Thursday

9:00 AM – 6:00 PM

Friday

9:00 AM – 5:00 PM
CareCredit
CareCredit is a healthcare credit card designed for your health and wellness needs. Pay for the costs of many treatments and procedures through convenient monthly payments.
Our patients leave smiling


I really like the service there. I'm very nervous about going to the dentist, but the staff made me feel so at ease. I've already recommended you all to some of my friends. continue your good work.

Linda G.



High quality service.

Leon G.



Got my teeth cleaned and routinely checked quickly and with minimal hassle. Great place!

Daniel G.



Staff is sympathetic to needs and Dr. Pandey is a very understanding dentist

Hope H.



As always excellent service and care. The staff (hygienist & Dr. Pandey) are always on time and available to answer my questions. They know my history and keep great tabs during my visits. Very happy with everyone in the office.

Karen B.



Having been to this office a couple of times, I can say everyone there makes the experience of going to the dentist a great one. The staff is very friendly and attentive. Dr. Pandey is great, very gentle and makes sure everything is okay throughout the procedure. Highly recommended.

Cesar S.



Just Plain Pleased.

Clyde H.



Everyone in the office is so nice friendly n professional. I bring my mom who is 87 years old. She loves Dr Bedall n the girls. She also recommended a friend.

Mamie B.



Excelente service !!! Dr. Pandey & Dr. Oliver amazing doctors

Katherine L.



Friendly efficient service

Judy W.



Professional service with excellent dental care. Family are patients and have been for years.

Lockwood P.



Super happy to say I am half way done with my invisalign treatment and it's incredible on how many comments and compliments I've been getting that my teeth already look straight. Dr. Pandey is not only an amazing dentist but really knows her stuff on straightening teeth. Thanks to Dr. Pandey and her awesome staff!

Thamara P.



Everyone on the staff is friendly, professional, and efficient. From start to finish Dr. Pandy, Gueiler the Hygienist, and Manager Laritza always do an excellent job every time I go in. One thing I can say is I always find myself leaving this place with a smile :). Please continue providing great service. God bless.

A P.



I had my cleaning with Gaston. As always, an amazing job! He knows how to make his patients comfortable. The staff, doctors and hygienists at towncare dental of Pinecrest have exceeded my expectations.

Miguel L.



I have been using the same dentist my entire life and when I found out they didn't take my new insurance I was upset. I looked online and found this office and I'm so glad I did! They were timely, professional, and personable. Dr. Pandey was very informative and made me feel like I was in good hands. To be honest, I'll never go back to my old dentist!

Brittany S.



reception and service is great

Indar R.



Very good always

Douglas B.



I️ like my dentist she is sweet and gentle. The staff is also amazing!

Isaiahreyes1115 Y.



Towncare Dental is always professional and courteous, very good customer service from everyone.

Patricia B.



Dr. Caravia is amazing with all my three kids. She's gentle, patient and communicates well with them. Finally, a place where my entire family can be treated. when I walk into this place I fell like I have an extended family. Awesome doctors, hygienist and satff. Happy mom happy family.

Isaiah R.